Introduction
Jennifer M. Schwer (2006) stated that text messaging is a "growing phenomenon." She noted, "The increase and use of text messaging by both patients and doctors reflects the evolution of the medical practice as well as the value of different communication channels in developing and maintaining relationships with patients."
Considering the time crunch that every office faces, hassle-free communication becomes more important to provide quality services. Also, with the pandemic in place, text messaging becomes even more necessary to maintain social distancing.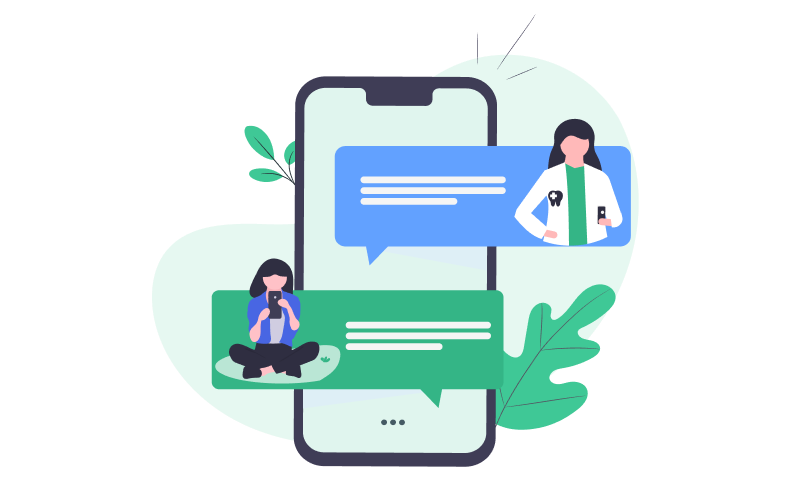 What is Two-way texting?
The concept of two-way texting enables users to send, receive, and reply to messages. Text messaging for dentists helps to improve their business communication with patients. It allows dental practices to connect with their patients by sending alerts, reminders, confirmations, and SMS marketing campaigns.
Latest Texting Statistics
These text marketing stats will give you an idea of how text messaging is catching the eye of marketers. 44 Mind-Blowing SMS Marketing and Texting Statistics [UPDATED]
Stats demonstrate that 64% of customers want to use text messaging to make or update a reservation.

5 billion people globally send and receive SMS messages. That's about 65% of the world's population.

85% of customers prefer receiving text messages over a phone call or email.

92% of U.S. adults carry text-enabled phones, 98% of smartphone users use text on a regular basis, but only 14% of companies text with consumers. There's a huge opportunity few brands are taking advantage of to reach people in a space that isn't yet overly crowded.

People will definitely see what you send them — SMS open rates are as high as 98%.
Benefits of text messaging for dentists
PATIENTS PREFERENCE- Be it your young or old patients; everyone prefers texts over phone calls or emails. It is always easier to send and receive text messages as it is just a matter of a single click and can be done through our website or even mobile app. Two-way texting means you can readily engage in conversation with your patients on their terms.

BUSINESS CONVENIENCE- Around 94% of the businesses currently using texting service have found it a successful communication mode. With two-way, your office staff can notify patients about their appointments via our easy-to-use messaging platform, and patients can confirm appointments ahead of time. This saves time for you and your patients!

TIME EFFICIENT- Texting messaging for dentists can save them considerable time. Instead of calling every patient, they can send a single message to multiple patients with the touch of a button.

EFFECTIVE TOOL- Nearly 70% of people feel this two-way texting is a productive method of communicating with business personnel. Texting has brought ease to send and receive notifications from anywhere and at any time in the world. This versatility and ease of use make it a popular tool.

INCREASED SECURITY AND COMPLIANCE- Using two-way texting as a unified channel can reduce the possibility of your office staff sending messages to patients through their personal numbers. Thus, all your data remains private with our high-end security protocols.

IMPROVES PATIENT SATISFACTION- Direct contact and an ongoing relationship with the dentist are essential to many patients' overall wellbeing. In general, a secure messaging platform compliant with HIPAA is important in improving dental patient experience and overall health outcomes. This helps in building trust amongst patients.

BUSINESS REVENUE- A patient is the kingpin of the dental services market. The patient's loyalty is increased by providing text messaging service as an easier and efficient medium of communication. This helps in your dental business growth.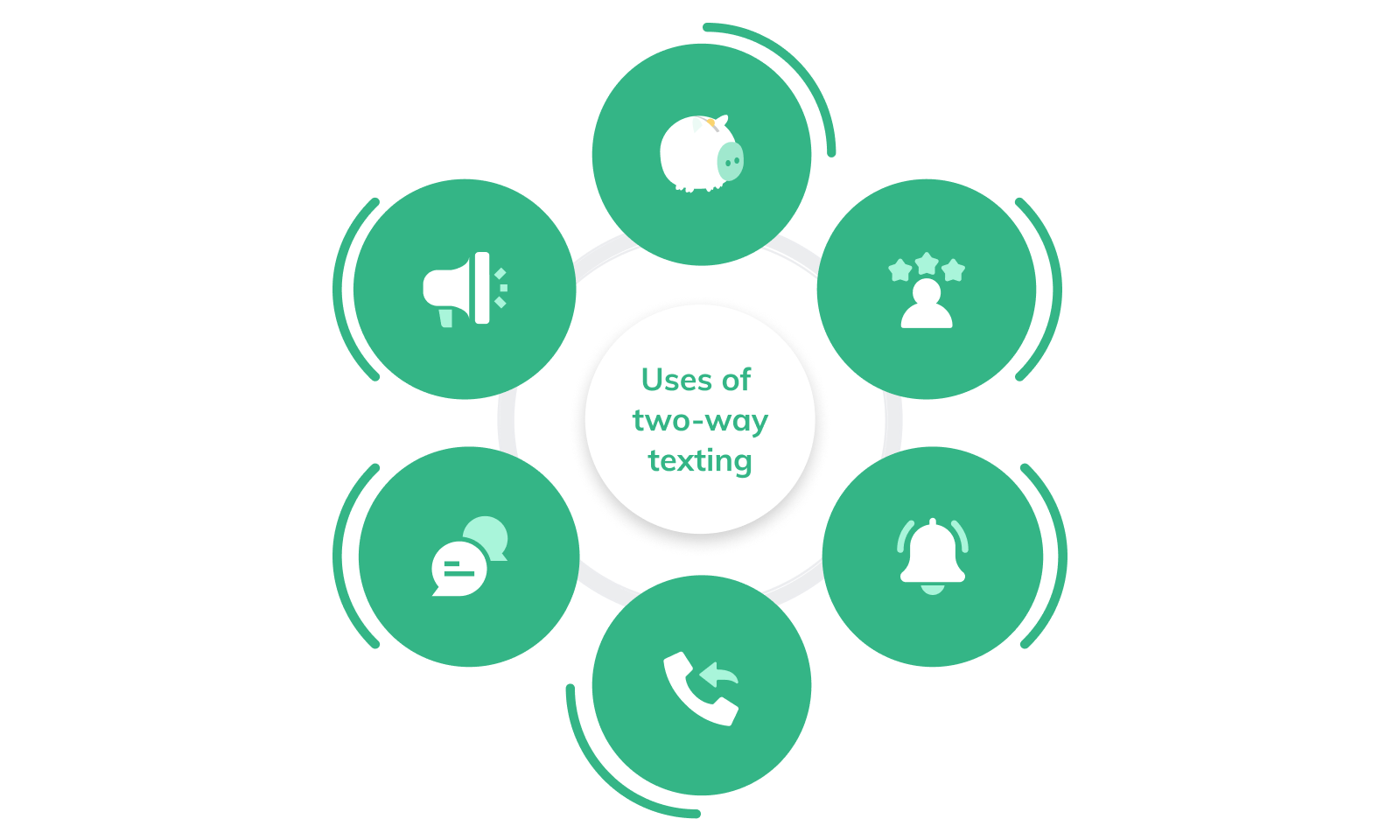 In what areas do dental practices use texting?
Sending appointment reminders- Sending appointment confirmation texts to patients is the most common usage of text messaging for dentists. Text messaging appointment reminders help reduce no-shows and help in communicating with your patients effectively.

Scheduling conflicts- A schedule change is sometimes forced on practices. Being able to text everyone on your calendar is far more efficient than calling everyone one by one. This enables directly notifying patients about the schedule changes.

Emergency situations- A lot of dentists rely on texting as a response to an immediate emergency or postoperative event. Text messaging can be used outside of business hours to keep an eye on incoming messages. This is one of the best ways to increase trust and create long-lived relationships with patients.

Review requests- Asking for online reviews post-treatment helps in building an online presence which further enhances your online reputation. This helps in getting valuable feedback from patients.
Positive reviews on Yelp, Google, and Facebook help in spreading the word about your practice.

Provide Quick Answers - Text messaging for dentists lets them respond to emergencies or postoperative complications. Outside of business hours, you can keep an eye on incoming texts and respond to them quickly to all the queries. It's a great way to foster trust and strengthen long-lasting relationships.

Contactless Check-In Experience- Consequently, COVID-19 makes it imperative to ensure patients don't wait in an unattended room. Text messaging for dentists can help them schedule easy appointments by reducing touchpoints while simultaneously following the social distancing norms.
Landline Texting as a type of text messaging
A text-to-landline service allows you to send and receive text messages, alerts, confirmations, notifications, reminders, and market promotional campaigns online using your existing landline phone number, VoIP, or toll-free number. You can give your staff and clients flexible options to communicate by integrating your phone system with text messaging capabilities.
How can PracticeDilly assist in text messaging for dentists?
Finding the right patient engagement platform is essential for a dental office to start two-way texting. The ideal partner will help in structuring, streamlining, and providing an easy-to-use messaging platform.
Well, PracticeDilly is changing the way dental practices work to make their job easier. We provide you a message dashboard to send/ receive text messages, share documents and pictures with your patients via text messages.
You can also access the message board and respond to your patient's messages on the PracticeDilly mobile app. The app will let you know when a message arrives. This helps in staying in touch 24/7.
Apart from this, we understand the importance of privacy in conversations. Therefore, All the conversations with patients are secured and under the HIPAA compliant rules.
So, start using our patient engagement platform to stay in touch with your patients via texts, deliver urgent messages, and keep them updated.