Why Are Dental Appointment Reminders Important?
Table of content
Introduction
The best way to ensure that you do something without fail is two critical things.
One, you need to block your calendar to know exactly when (and on which date) you should take action.
Two, you need to have a system of reminding yourself that you have a task to attend at such and such date.
Once these two elements are placed, you know you won't miss out on a given task you set out for yourself.
Now, if we talk about dental appointment reminders, it does the same job.
It helps your patients know beforehand that they need to block their calendars for a particular date for the appointment, and they shouldn't miss the appointment because they need to rebook for another slot.
In this guide, we will investigate why dental appointment reminders are important for your dental practices and how it helps you reduce the no-show-rates of your patients.
Why are dental appointment reminders important?
Little things are big things. And when you pay heed to the little things in your business, your business drastically improves.
For your dental practice, one such little thing is dental appointment reminders. You may use appointment reminder software or go with a top-notch dental patient engagement app. The idea is to make sure that you take care of this tiny thing.
Here's why.
Reduce Your Risk of Missed Appointments
Do you know how much this tiny little thing called the appointment costs the healthcare industry? A whopping $150 billion a year.
And dental clinics are equally affected by this disease called 'no-show.'
A study claimed that a dental clinic loses 443 production hours from a 'no-show.'
So if your dental office is not generating the revenue you're looking for, maybe it's because of this one tiny thing called missed appointment.
Take charge of this little stuff, and you'll make more money than you've ever imagined possible from your dental practices.
Help You Become Proactive
When you want to make sure that no appointments are missed, you may think that you cannot do much about it.
But with dental appointment reminders, you are in a driver's seat.
You can transmute the no-shows into a fully-booked appointment chamber.
You can become proactive in deciding when to send appointment reminders and take charge of the whole transaction from the beginning till the end.
And as a result, the results that you receive are always predictable (not sudden).
Make Your Front Desk More Efficient
You'd know that how many tasks your front desk executive/s handles. It could be a hundred. And amid all of these tasks, if you tell them to pick up the phone to send the patients - appointment reminders, it's taxing to add one more task to their kitty.
Solution?
Make it automated.
Use the appointment reminder software that's easy to use and doesn't cost a fortune. And make dental appointment reminders seamless.
Result?
Your front desk would be able to do their tasks while having an eye on the confirmed and unconfirmed appointments.
And your revenue will reach through the roof without changing much in your dental practice business.
Improve the Patient Experience
When you're using appointment reminder software, you're automating the entire process of sending text messages and emails to remind your patients about the appointment.
But that doesn't mean you're doing it like a mass-mailing.
Dental appointment reminder software allows you to personalize each patient depending on their tastes, preferences, and habits.
Though there are many appointment reminder software in the market, you can pick and choose the one that has the following features -
Provides you with the features you need such as dental appointment reminder feature

Helps you personalize

Charges you a reasonable amount

Trains your front desk executives the way the software works

Makes the whole experience seamless
When you get all of these from your dental appointment software, you can also offer your patients a beautiful experience.
Put Your Patients in the Drivers' Seat
Like you, an automated dental appointment reminder software puts your patients in the drivers' seat.
Your patients lead busy lives. They have a lot on their plate. Amid all of this chaos and busyness, it's easy to miss out on an appointment that they've booked three months prior.
When your automated software sends them a text message or an email, they know in advance that they would have an appointment at such and such date and time.
As a result, they can decide whether they would be able to make it or they would have to book another appointment.
It makes things easier for them, and they tend to trust you more when they book another appointment with your dental office.
Your Revenue Gets Skyrocketed
What if you know that by tweaking this tiny thing, you can skyrocket your revenue?
Won't you do it?
Who won't?
Here's why sending personalized dental appointment reminders will skyrocket your revenue -
More patients will show up for the appointments, meaning you will earn more money and have more influence.

Fewer patients will miss appointments, meaning you will have more success rate with whoever book the appointments.

When you send a personalized reminder, your patient understands that you care and they can trust you. More trust equals more referrals. More referrals equal more revenue.

When you automate sending appointment reminders, you will have fewer overhead costs, and your return on investment would also be higher.
What does Research say?
According to a paper published in British Dental Journal by Donald Burden in August 2003, 232 patients were studied from 18th June 2001 to 29th August 2001.
They both were divided into a reminder group and a no reminder group.
After a couple of months of testing with these patients, the study concluded that when the orthodontic consultation offices use postal reminders, there's a reasonable increase in the number of appointments that are kept or canceled prior.
What does it mean?
It means that when you use dental appointment reminders, you gain more clarity about your patients, your revenue; more people will show up for the bookings, and if not, you will know prior.
When to send dental appointment reminders?
If you're running a dental office, you know that as much as you want your patients to feel good about your services, they also create the cash flow for your business.
And when you do the math, you'd see that most of your revenues (82% to be precise) come from the old patients that come to your regularly than the new patients you tend to acquire.
Now, as you understand the value of dental appointment reminders, it's also important when you're sending the appointment reminders to your existing patients.
Here are the best practices that create the maximum results.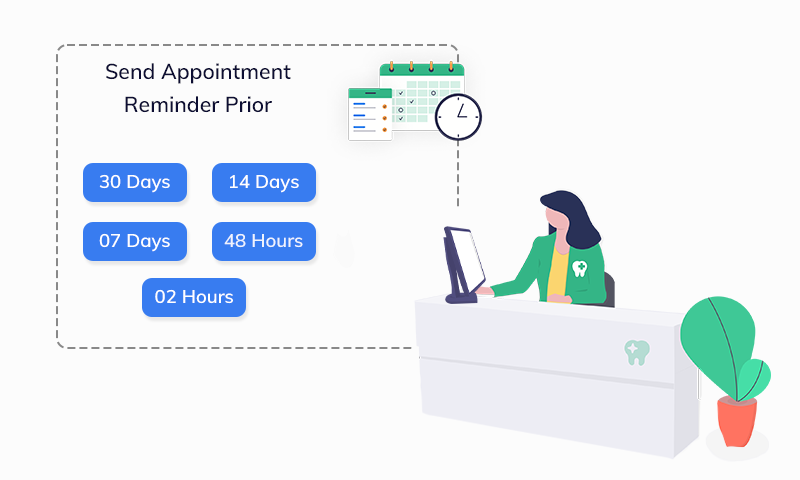 Two is more valuable than one.
You may think why we're focusing on the timing of sending dental appointment reminders.
Because it makes the difference between whether your patients will show up at said date and time or not.
A study published in AJMC concluded that when the patients are sent two reminders (at 3 days prior and 1 day prior) instead of one reminder, patients tend not to miss the appointments. And sending two reminders instead of one also doesn't reduce patient satisfaction.
Preferred way of sending reminders
When you opt for a medium that a patient prefers to communicate through, there's an instant win-win for both of you.
That's why when you use the appointment reminder software; you need to make sure that you give your patients preferred options to send them reminders.
The research published in the Angle Orthodontist concluded that SMS & Email are the most effective way of sending appointment reminders than phone calls. It also said that SMS has the lowest no-show rate, i.e., 1.90%, email has the second-lowest no-show rate, i.e., 2.68%, and the phone calls have the highest no-show rate, i.e. 3.49%.
Along with sending timely reminders, make sure what your patients prefer and drastically reduce the no-show rate.
Dos and don'ts of dental appointment reminders
Let's quickly have a look at what you should do and shouldn't for the optimized benefits from dental appointment reminders -
Dos:
There are a hundred patient engagement platforms in the market. You need to choose one that's user-friendly, hassle-free, and provides training to your executives whenever required.

Use two reminders instead of one to improve the return on investment (ROI)

Send your patients a personalized appointment reminder

Let your patients choose the medium to receive reminders from - phone calls/emails/text

Set a separate appointment reminder for your new patients (and the method of sending the reminders would be different than your existing patients) since they don't know what to expect from your dental office
Don'ts:
Even if your patients equal money, don't treat them as the source of revenue. Treat them as human. Because human connection always goes a long way

Don't send multiple reminders separately to different members of the same family. Club the reminders and send them twice before the appointment

Don't use any appointment reminder software because you're in a hurry to install a patient engagement platform. Make a list of pros and cons, and then make a prudent decision.
In the final analysis
It's important to think beyond profits. Remember that you're in the business of reducing the suffering of your patients the way we have made this for you.
We wish you all the very best and hope this has inspired you to embrace dental appointment reminders and make a tiny tweak in your dental practice.
Related Blogs
How to be an efficient practice with paperless dental forms?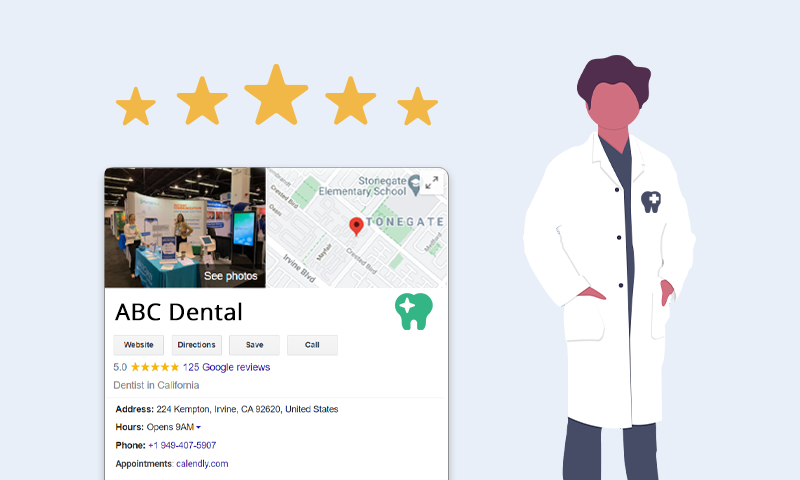 How Important Is Online Reputation Management For Dentists?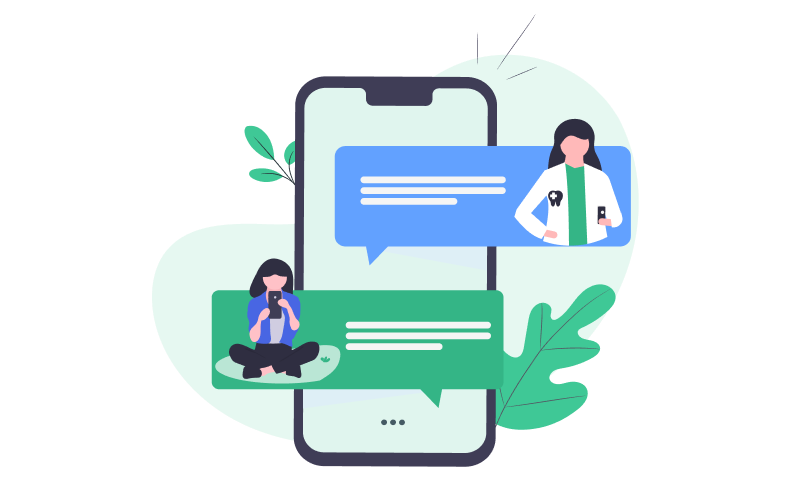 How important is text messaging for dentists?